We can certainly agree that the internet has made making money much easier. And one reason for that is affiliate marketing.  You can make money on the internet with several ways, but essentially two ways comes up at the end. Either sell your own stuff or sell / promote someone else's, and get paid for it. Of course affiliate marketing  is in the latter group.
But how does this work? Well, you recommend a product or service to your followers / friends, and some of them purchases this previously mentioned product or uses the service based of your recommendation. If that happens, it results in getting paid a commission for those purchases.
How does exactly affiliate marketing work?
There is one basic requirement – have an online presence. It can be a blog, website, even an email list, anything where people can listen to you. After that, you're good to go.
The first thing you have to do is partner up with the company. As their partner, you're going to be their affiliate. You will promote the company's service or product to your followers. Of course, you decide how you're going to do that. Either you can write a blog post, or place a banner ad somewhere on your site. You can even mention it in your newsletter, or create a post on social media.  You just have to attach a special link to the product or service, so people can check it for themselves. Don't forget : you need attach your own affiliate link. It usually contains your affiliate ID, which is unique to you.
When a follower decides to purchase the product or service, and their purchase is complete, you earn a commission. Eventually you receive a payout – if your earnings reach a certain threshold (usually $10-20), or if you've reached a specified period of time.
Before you become an affiliate
Always tell your followers if you're using affiliate links. You must disclose properly.
Choose only products you can recommend without hesitation. Products or services you have previous experience with are great.
You can become an affiliate at bigger companies once, and then you'll be able to promote any of their products. Like if you become an affiliate with Amazon, you can promote any of their products.
Do not choose irrelevant products or services to your niche. If your site is about diapers and you'd like to promote Cashbackcloud for instance, some customers of yours would be shocked. You might even be branded as a spammer. And if you develop a bad reputation, it's almost impossible to go back. It will hurt pretty much in the long run.
Experiment with different networks, content, text links vs images, ad sizes, etc. Even with small changes there can be sometimes vast differences.
Always know the Terms of Service for the programs. Some of them might not allow you to include affiliate links in emails for example.
How to find affiliate products or services to promote
Think of a product or service you like already and visit their website. Look for links like "Affiliate Program", "Referral Program", "Affiliates". Then just follow the links to sign up.
Pay attention to the affiliate products others in your niche are using. Look at those sites, read their posts. Check out everything from their sidebar to their links. If you find anything related to your website, find affiliate information by the methods described above.
You can also join an affiliate network, and browse through their available campaigns.  In fact, lots of companies offer their affiliate program via an affiliate network, so you'd have to join anyway.
What is an affiliate network?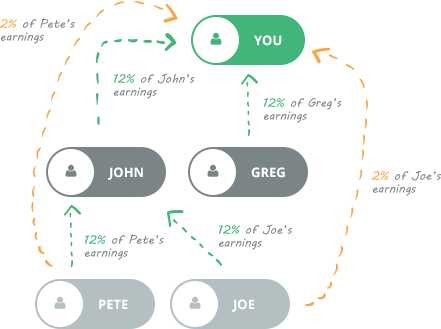 An affiliate network is like a middleman. They provide a place where advertisers can find publishers, and vice versa.
This network is a great opportunity for advertisers as well. They reward any of the network's publishers who promote their product and it results in a sale.
If they agree, the network lists that campaign on their website.
Then you, the publisher, log in and see the available campaigns, offers, or marketplaces to promote.
Once you are cleared to promote a particular product, and you've understood the terms for that campaign, you have to look through the list of available banners, buttons, text links, etc. for the product. Choose the one you prefer over the rest and copy the code they provide you. This code has already got your unique ID in it. Only use this link when you're promoting the product.
Affiliate marketing is great for advertisers because the program is run by others, and not themselves. Affiliate networks are great for publishers because they can find everything they need there. And of course, affiliate networks are great for themselves too because they are the middleman therefore they get a big piece of the pie.
Some affiliate networks you can join
There are lots of affiliate networks, and they are easy to join. Unfortunately, some are by invitation only. Different networks provide different products, so you should hunt around for a while to find the closest ones for you.
Here are some exemplary affiliate networks you can check out:
After checking out everything mentioned above, it's time to decide what kind of ads are you going to run.
Types of ads
There are different types of ads. Sometimes it depends how much you're paid on the ad's type.
PPC = Pay-Per-Click
Each time a reader clicks on the ad on your site, you get paid. The amount pretty much depends on the keywords and how much exactly advertisers are paying for those keywords.
CPM = Cost-Per-Mille or Cost-Per-Impression (CPI)
Mille is Latin for 1000. You place the ad on your site and you get paid after every 1000 pageviews.
CPA = Cost-Per-Action
When a reader clicks on it, and then is asked to complete the action such as signing up for newsletter, buying a product, etc. Whenever a reader completes the required action, you get paid. (This is the type of our referral system too! Whenever one of your referrals makes a trade, you get paid.)
Unfortunately, all of these advertising options work best for sites with high traffic. Since you need people who actually buy stuff you're advertising, you're going to need huge traffic.
Don't be discouraged if things don't work out at first. All blogs / websites are different. And what if you don't have enough traffic? Well, increase your traffic. Diversify. Do some research and find the campaigns that pay the most.