What is cashback?
Cashback is the portion of the commission from the costs of a trader, an e-wallet user or a poker player pays in some form (eg.: spread, rake).
Here is a simple picture that shows the flow of the money hopefully it helps!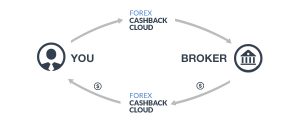 If you are a forex trader, who registers through our link to a broker and start trading there, during your trades you pay the spread cost to the broker.
As we attracted you to the broker, the broker pays back to us a portion of your costs, it is called commission. After that we pay you a portion of this commission back to you, which we call cashback.